The International Baking Industry Exposition is the global grain-based food industry's largest trade show in the Western Hemisphere. Held every three years at the Las Vegas Convention Center, the show attracts more than 23,000 baking professionals. From manufacturers, suppliers and educators to beginning bakers and seasoned bakers. No matter your role or whether you were an attendee or an exhibitor – there was plenty of action for everyone all around.
The 2019 Expo did not disappoint. And before I get into my favorite part (the free samples!), here are my takeaways from the show:
The Technology
The technology, as always, was incredibly impressive. But the 'equipment area' of the show is indescribable. You walk into a room full of industrial sized equipment that makes you wonder how it was possible to even to fit it through the door. I saw machines that can split and pattern your dough in every which way, a mixer taller than our CEO (who is 6'4"by the way, see below), computerized and digital cake decorators, all different kinds of conveyor belts and many, many more. The equipment ranged from the essential machinery necessary to run a bakery, such as ovens and mixers, to those not so obvious pieces of equipment, like dust collector systems.
As you know, dust is considered a Class 2 combustible material that can be very dangerous when mixed with high temperature baking equipment. As someone fairly new to this industry, the need for a massively powered dust collector blew my mind!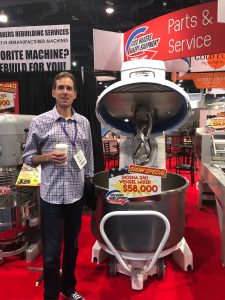 The Education
IBIE proved to be a great way to further educate those in this industry. Show goers could choose from 100+ sessions that address the hottest topics and trends from new ingredients and process formulations to business level focuses on retaining employees, auditing and growing your business. There were also many live demos focusing on the food itself, such as cake decorating and perfecting fondant, and equipment demonstrations.
The Fun
The show also proved that you can mix business with pleasure. Perhaps it was the location that had something to do with it, but having spent most of my time while in Las Vegas actually at the show, there was plenty of opportunity for me to feel entertained. There were cake decorating competitions, a tailgate party to celebrate NFL's opening day (go Browns!) and what the show calls 'Artisan Marketplaces', which are interactive 'hubs' that offer virtual demos, workshops and places to sit, relax and network.
I was also able to catch a glimpse of 'dough performers' that had me mesmerized and late getting back to my booth.
And yes, plenty of free samples! Ranging from brownies to coffee and pepperoni bread to fried chicken, they were all delicious. This year the show had 'The Great American Pie Festival' which brought together several different pie bakeries offering samples.
The People
It was an honor to be among attendees, exhibitors and educators who are so passionate about what they do. Many 'Best in Baking' awards were given out for sustainability, product innovation, sanitation, workforce development, ingredients and more.
It was also great to see and meet (thank you, The Village Pie Maker, for stopping by!) some of our existing customers and prospects, as well as hearing from new people what problems they're trying to solve.
Whether I was walking the floor or at the booth, the excitement, determination and motivation in everyone was palpable.
So, will I see you in 2022?
If you're in the baking industry and are thinking about whether or not IBIE is for you, this could be your one and only time to get in front of some of the 23,000 baking professionals who are ready to get the latest on all the trends and talk business.
To check out more show highlights, you can go to the IBIE site at https://www.ibie2019.com.
And here's the Wherefour team in action at our booth!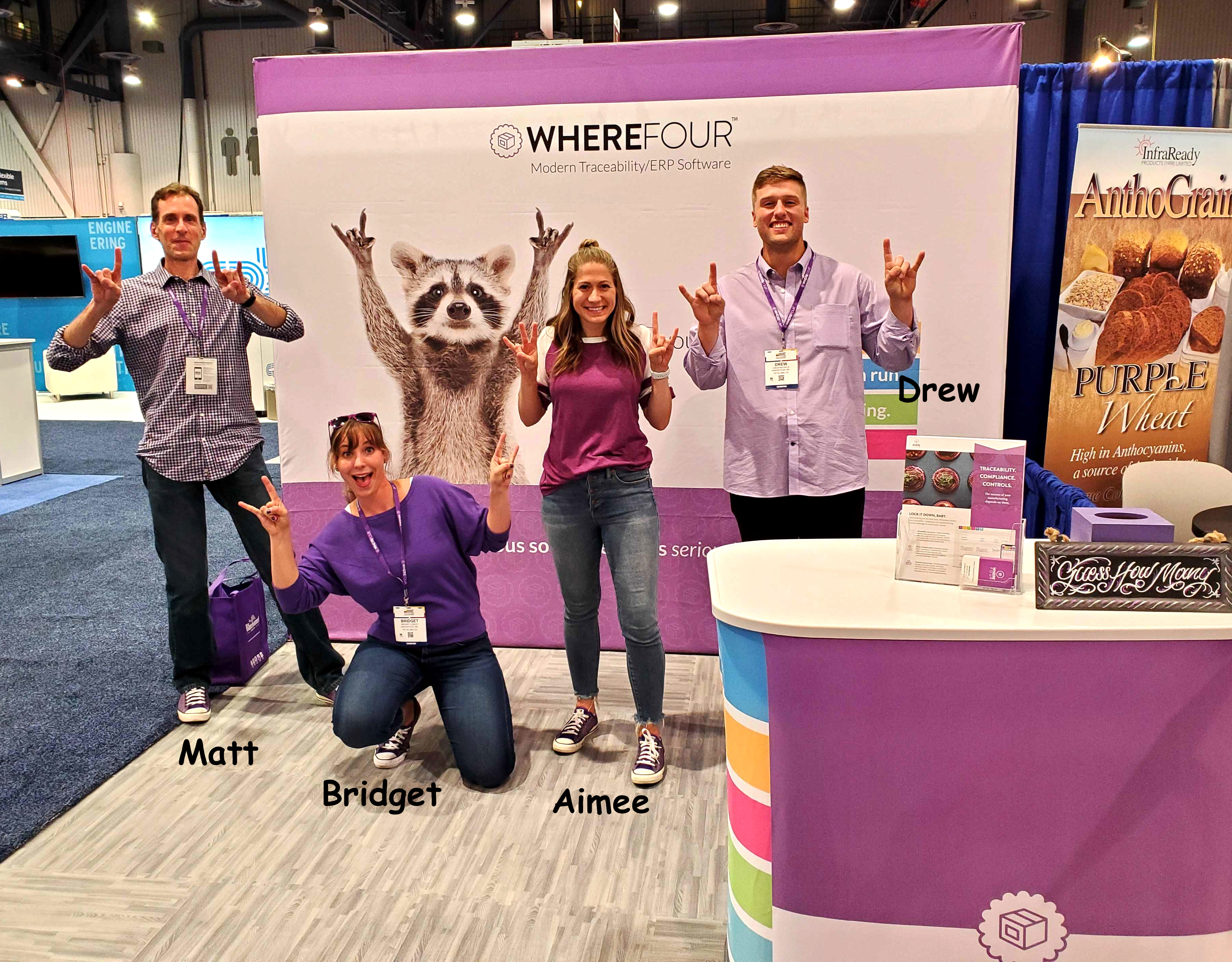 Did you attend IBIE? If so, what was your favorite part? If not, do you have a favorite expo? Let us know, we'd love to hear from you!